Fluffy and Light chocolate eggless buckwheat pancakes are incredibly delicious egg free and easy to make. This is a quick recipe, and you can whip them up this weekend.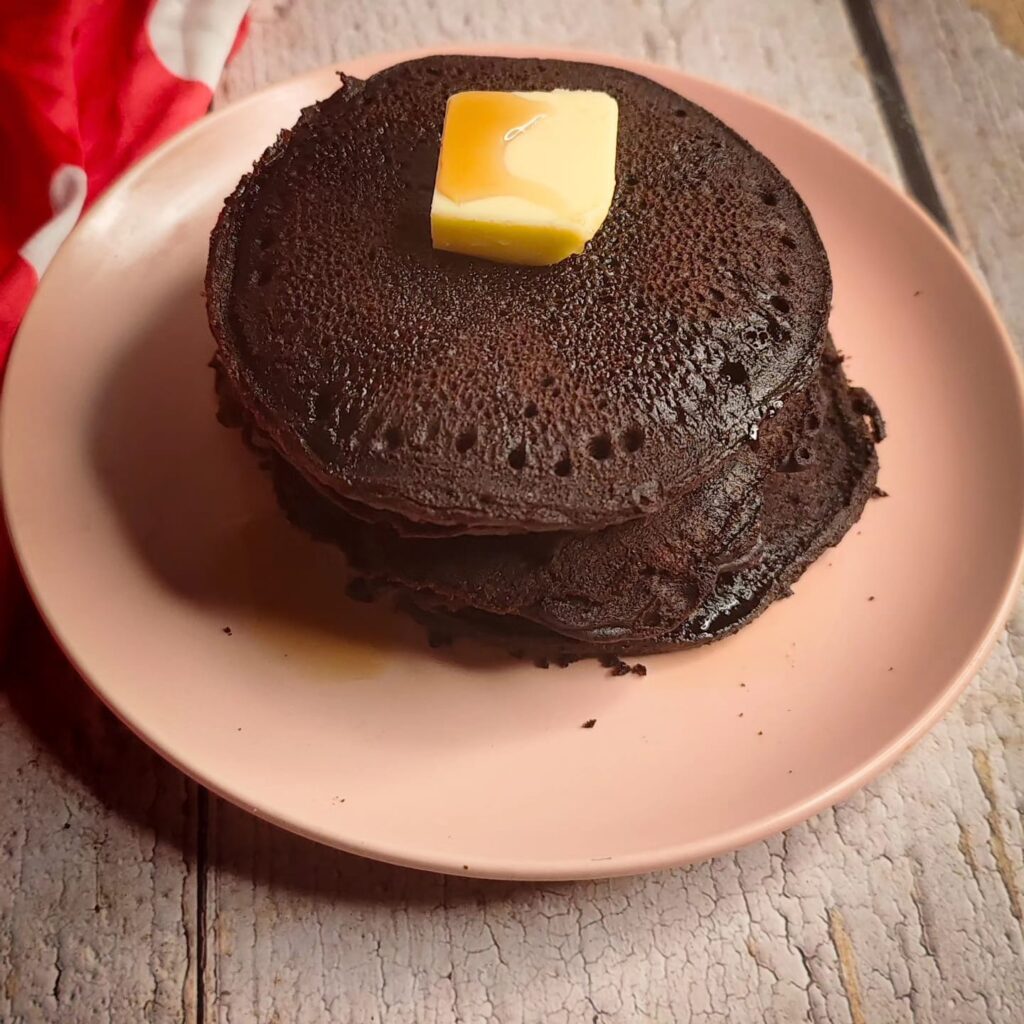 Now you might wonder how i came about making buckwheat pancakes that are eggless and gluten free. The answer is I have a lot of friends who fast in this month and can't eat grains, eggs, alcohol and even certain spices. The reason for these fasts is the Sawan, also known as Shravan, an important month in the Hindu calendar. It is the fifth month of the Hindu lunar calendar and typically falls between July and August in the Gregorian calendar. The month of Sawan holds great religious and cultural importance for Hindus, particularly Lord Shiva devotees. The Sawan month is the month of lord shiva and Monday is the day all Lord Shiva devotees keep a fast.
I have friends who observe these fasts and one day a friend dropped by and mentioned that she was craving pancakes. But she couldn't eat them because she was fasting, that made me wonder if I could help her in this dilemma. I asked her what all she could eat and she mentioned she could eat buckwheat flour known as (Kuttu ka Atta ) in Hindi. That made my mind run into a frenzy and I went and searched online for buckwheat pancakes. I went through a lot of recipes and made this one. It turned out incredible and i made it for my friend and she loved these pancakes. These are easy to make and very fast (vrat) friendly.
These pancakes are my new favorite and I have made them so many times that I can easily say i am obsessed with them. I love love these pancakes. They are light and chocolaty and just so tasty. But you might wonder what buckwheat is ?
What is Buckwheat Flour ?
Buckwheat flour is made by grinding the seeds or kernels of buckwheat and even though its called buckwheat this flour has nothing to with wheat. It is a seed which is packed with fiber, antioxidants and has proteins which are easily digestible. Buckwheat is gluten free and is known as a pseudocereal like quinoa and amaranth. Buckwheat is also called beech wheat and is also called a fruit that is closely related to sorrel and rhubarb.
The flour has a slightly grayish or tan color and a distinctive nutty flavor.The flour can be light or dark. Light buckwheat flour is also known as fancy flour and is made by grinding hulled kernels. Whereas the dark buckwheat flour called the supreme variety, is made from whole buckwheat groats with the hulls. The dark variety of flour is more fibrous than the light ones and has low glycemic index, making it a good choice for maintaining stable blood sugar levels.
Ingredients for the pancakes
Buckwheat Flour is the main ingredient in the pancakes and provides the nutty and fibrous texture to the pancakes. Its gluten free and grain free.
Coco Powder: is added to give it that rich chocolate flavor. Just by adding unsweetened coco powder the chocolate flavor is on point.
Baking Powder to give the batter the rise when it is cooked on the griddle.
Baking Soda is added as an ingredient that will react with the acid (apple cider vinegar) and release carbon dioxide which will make the pancakes nice and fluffy.
Cinnamon is added as a spice to amp up the flavor game. You can leave it out if you are not allowed to eat cinnamon during the fasting season.
Rock Salt or Sendha Namak is added to the pancake so that the salt enhances the all over flavor of the pancake.
Caster Sugar is the choice of sweetener, but you can use coconut sugar or brown sugar in its place.
Almond Milk i have used almond milk to make it nut friendly.
Apple Cider Vinegar: is needed to react with the baking soda and fluff up the pancakes. You can use white vinegar or lemon juice in its place.
Melted Butter is added to give the pancakes that rich smooth flavour. You can use ghee too. You can use melted coconut oil if you want it to be diairy free.
Vanilla Essence you can use a little more of the essence if you don't use cinnamon.
Some Tips for these Pancakes
These pancakes arent very sweet infact the sugar ratio in these pancakes is not much so you can go a little crazy with the honey, maple syrup, golden syrup or whatever your heart desires.
You can use nuts or fruits on these panacakes.
You can add maybe 1/4 cup of banana to this batter if you want to enjoy banana and buckwheat pancakes.
These pancakes tend to stick so please butter/ oil your griddle well. I noticed it gets stuck when we flip it so butter the griddle well.
These pancakes use unsweetened coco powder for the chocolate flavor but you can add about 1/8 cup chocolate chips to make it more chocolaty. Some people don't eat chocolate during the time they fast so they can leave the chocolate chips out.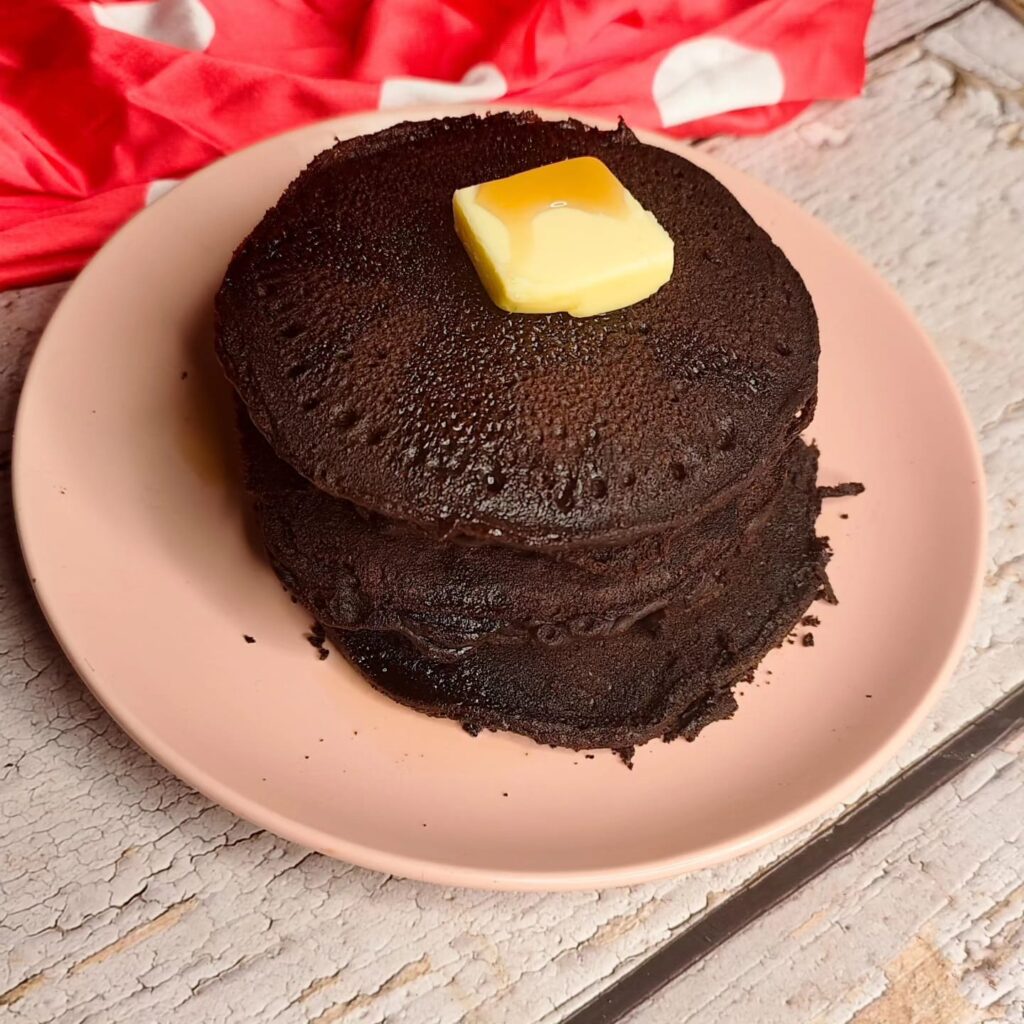 Instructions
Take the almond milk and add the apple cider vinegar to it and keep aside
Make the dry mix the buckwheat flour, coco powder, baking powder, baking soda, cinnamon, salt and keep it aside.
Now mix the sugar, melted butter, vanilla in the almond milk mixture and give it a good stir.
Add the wet mix to the dry mix and make a thick but pourable batter. I had to add a few tablespoons of almond milk to make it pourable. 
 Now heat a griddle and spread it with butter and pour a small quantity of the pancake and cook on medium flame till the bubbles appear on the pancake. Flip it and cook it on other side.Now one thing I noticed was that when i flipped the pancake it got a little stuck on the pan so please butter the griddle or whatever pan you use. Once done enjoy with fruits, nuts , honey or whatever your heart desires. Give me your feedback on how the pancakes tasted. Enjoy!