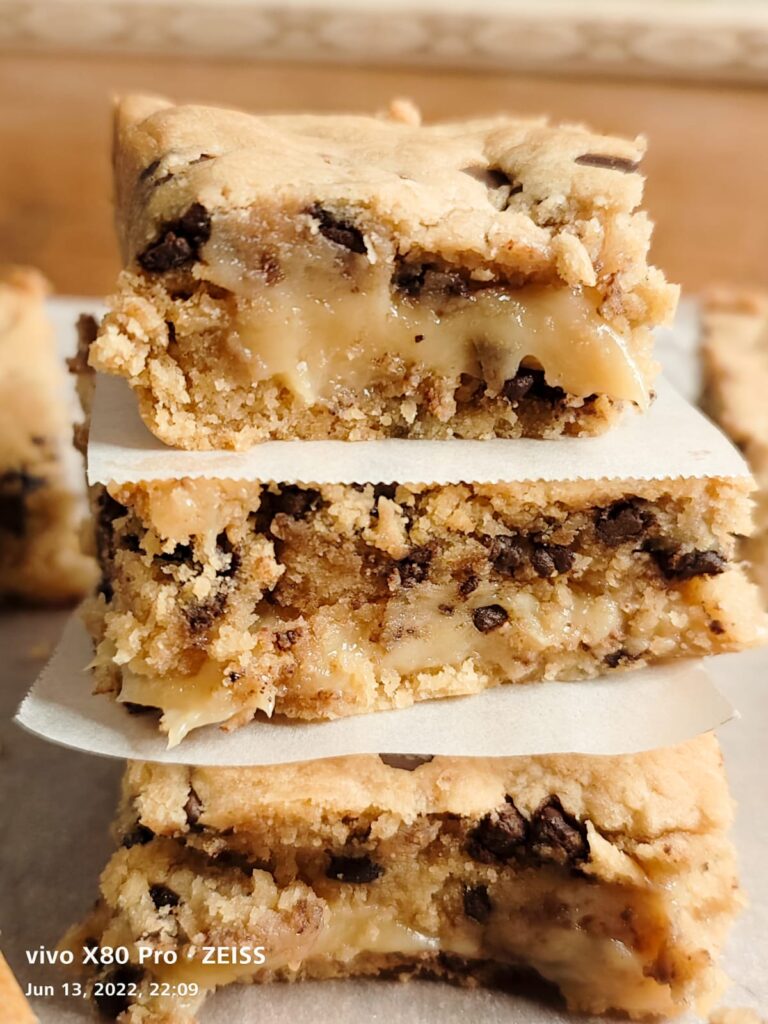 I read about these bars in the Cookies and Cups Cookbook by Shelly Jaronsky but mine is an eggless version with my chocolate cookie recipe. These are incredible, indulgent and sweet. Yes! sweet not cloyingly sweet but sweet, soft chewy goodness. My chocolate chip cookie recipe is a keeper, and you don't need to stash it in the fridge to cool down, you can bake it right away. I love the combination of salty sweetness of the caramel sauce with the chocolate chip cookie dough. If a match was made in heaven, it would be this, marry me , marry me , say yes! marry me , marry me, OST Marry Me. It is a match made in heaven you will believe me when you decide to marry them off, by baking them.
You will love these bars but be careful with the caramel when you make it because its super-hot and can cause burns. So please be careful and don't touch it with your bare hands- warning! now I am not known for my patience, but I have suffered once when I dipped my finger in hot caramel to taste and believe me it wasn't a pretty sight. I have since learnt of course the hard way, always the hard way for me that you indeed need to cool down the caramel before you taste/use or eat it. So, please be careful with it.
Another warning they disappear very quickly, in fact they are gone in minutes. All that is left are the crumbs so if you want you can double the recipe, more the tastier.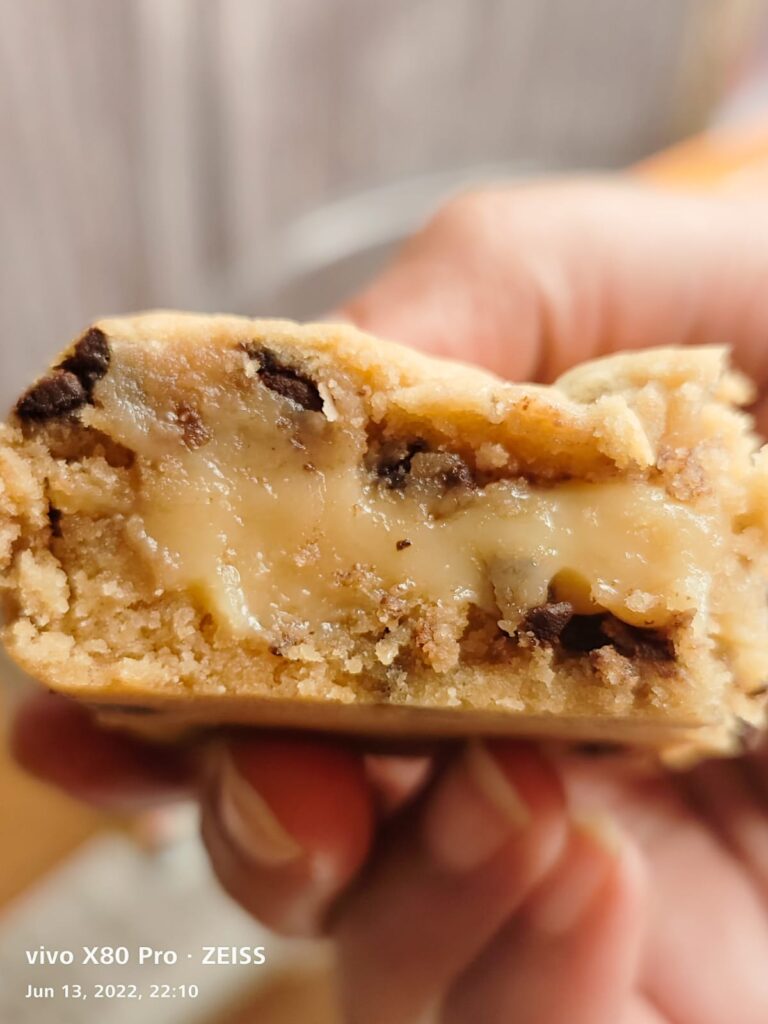 Instructions
Take the APF, whole meal flour, corn flour and baking soda and salt give it a good mix. Now take the butter caster sugar the dark brown sugar and condensed milk and whisk it till it's nice and fluffy. Add your dry mix and the dark chocolate chips and mix it well. Don't overdo with the mixing. Keep it aside and make the caramel.
Ingredients For Salted Caramel
Instructions
Melt the butter and sugar on a hob on low heat once the sugar has melted add the condensed milk the light corn syrup and salt. Cook it till it's nice and thick and the colour has changed to a light brown. Be careful to not overcook it.

Take a 6 inch square pan and carefully place the parchment paper in it so that it overhangs and spray it with cooking spray. Now take half of the chocolate chip cookie dough and spread it in the pan. Pour the caramel sauce over it and drop the dough in even size amounts on top of the caramel till it's completely covered. Bake for 25 minutes let it cool on wire rack and cut into 9 even squares. Enjoy !