Fluffy, sweet and delicious eggless red velvet pancakes made from pantry staples. These are incredible. Try them.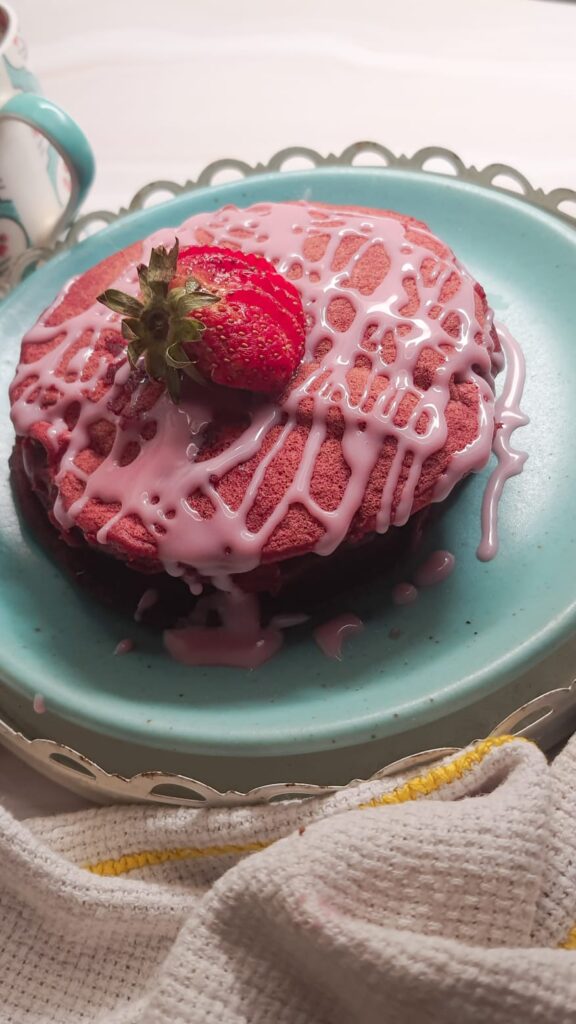 This is a quick recipe for eggless red velvet pancakes and requires just a few ingredients infact your pantry staples put to good use. The pancakes are light and fluffy and I had some rose flavored white chocolate ganache which I used to top it, you could use anything you have at hand maple syrup, honey or some cream cheese syrup. I had made these pancakes for valentine's day, but you can have it anytime. They are moist and delicious and so so pretty.
Eggless Red Velvet Pancake Ingredients
All Purpose Flour Just your regular all pupose flour i dont know how they will turn out whe made in whole wheat flour.
Coco Powder These give the pancakes their slight chocolaty flavour.
Baking Soda to react with the vinegar so that you get fluffy pancakes
Baking Powder so that the pancakes rise well.
Buttermilk so that the pancakes are nice and tangy just like a red velvet cake.
White Vinegar the agent that reacts with the soda and produces carbon dioxide.
Sugar regualr caster sugar
Vanilla essence used here if you are using extract the amount will be less .
WHAT ARE EGGLESS RED VELVET PANCAKES?
Now these eggless red velvet pancakes are somewhat a cross between buttermilk pancakes and a regular pancake.
To make these eggless red velvet pancake batter these three ingredients are the key cocoa powder, red food gel, and white vinegar..
Even though these pancakes are red in color and are fluffy and light like regular pancakes they are slightly chocolate in flavor because of the coco powder.
But i know what you are thinking why add vinegar ? why does a pancake need vinegar in it. The vinegar reacts with an acid in the batter (soda) which reacts and forms carbon dioxide. This is the reason why your eggless red velvet pancakes are nice and fluffy the carbon dioxide helps in fluffing them up.
TIPS FOR GREAT PANCAKES
Make sure your ingredients are room temperature. When the ingredients are room temprature they mix easily make sure your buttermilk is room temprature as when you add the melted butter if your buttermeilk is cold the butter wont mix properly.Make sure your eggs are room temprature too. This is the key to a aeswome eggless red velvet pancake.
Since these are like mini cakes themselves someone who bakes cakes would know that room temprature ingredients are the key to a well mixed batter and results in nice even fluffy cakes here it is pancakes.
You can subsititute red colour gel with beet powder if you are coencerend about colour consumption.
Keep the pan you cook these pancakes on well greased a nob of butter goes a long way.
Keep the cooked pancakes warm on the lowest setting of the oven. Line them on a heat safe cooling rack so that they don't get soggy.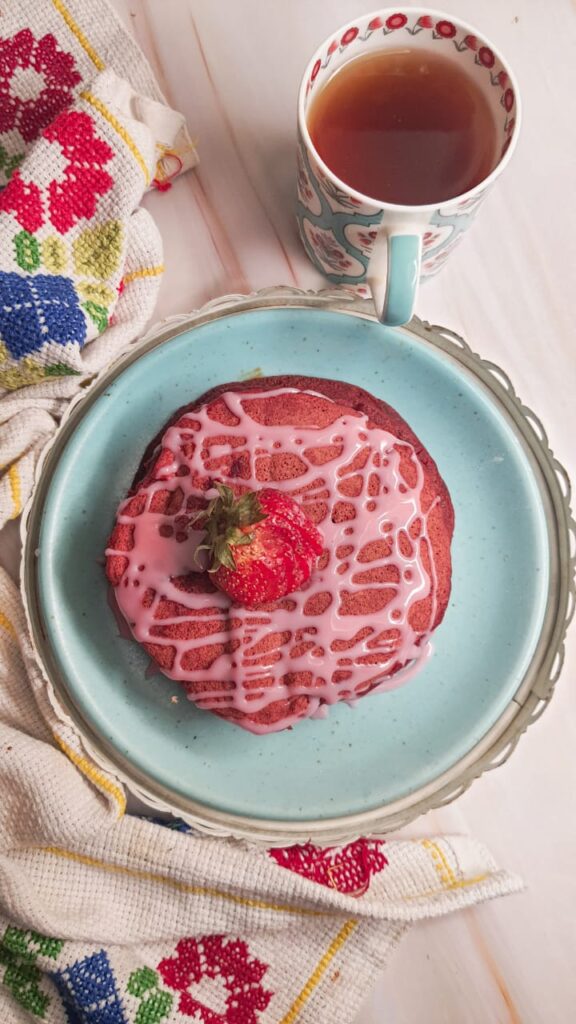 Instructions
Whisk together the flour, coco, baking powder, and baking soda and salt.
In a jug mix buttermilk and vinegar together add the sugar, melted butter vanilla and red color.
Add the dry ingredient into the wet and mix it till they are incorporated but do not overmix the batter.
Keep a nonstick pan on a low medium heat, use a little butter to oil the surface and pour 3 tablespoons of the mix to the pan. Now don't keep the flame high keep it on medium low flame till you see bubbles and the sides of the pancake to firm up. Flip it and cook on the other side. This makes about 4 to 5 pancakes. Enjoy with honey, maple syrup or cream cheese.