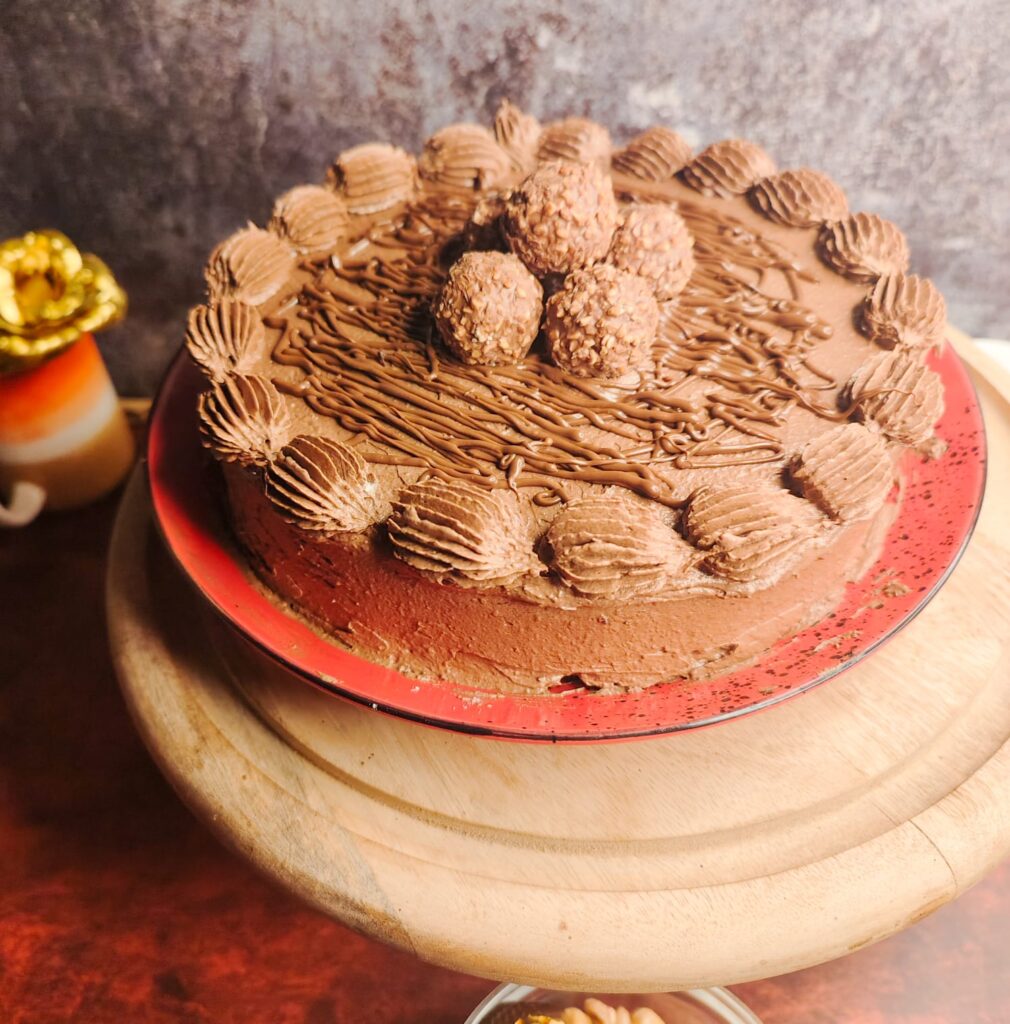 You are my dream for a theme yes you are a fair and lovely dream…….I dream of a Ferrero Rocher cake all day long yes! a Ferrero Rocher cake all day long…. ding ding ding ding ….. Cliff Richard might be just twisting and turning in his grave… singing a serenade to Ferrero Rocher on one of his most popular tunes. But you must believe in the power of a Ferrero Rocher specially a Ferrero Rocher cake…. this cake is sensational. It has an eggless sponge made with Nutella spread and hazelnut flour and the cake is covered in a Nutella buttercream, the cake is soaked in Nutella milk and filled with Ferrero Rocher chocolate and melted Nutella. The sponge is eggless and fudgy, soft and with a moist crumb. The Nutella buttercream is like a dream la la la la (for a dream for a dream), its perfect for the cake, I add a little bit of coco powder to amp up the chocolate flavor, its creamy and you can taste the Nutella like you are eating it out of a jar, the filling is Ferrero Rocher chocolate broken into small pieces and then a liberal squirting of melted Nutella. Now isn't this cake a dream? I love Nutella, I love hazelnuts, I love Ferrero Rocher chocolates and if you love them too then I love you too……. that didn't need serenading did it…lol
Ingredients
For the Sponge
For the Nutella Buttercream

For filling
Instructions
For Sponge
Pre heat the oven to 175 C and butter and line two 7 ' inch tins. Mix the coco in the hot water and keep aside. Take the All-Purpose Flour, the hazelnut flour, baking powder and baking soda in a bowl and mix it well. These are your dry ingredients.
Now whisk the hung curd and oil until well mixed, add the sugar mix it well and then add the Nutella and the vanilla. Give it all a good stir. These are your wet ingredients.
Add the dry ingredients in the wet ingredients and then add the coco and water. Mix it all till its mixed well. Don't expect a completely smooth batter as you have added hazelnut flour. Don't over mix this batter as it will make the cake very hard.
Bake at preheated oven 175 C for 35 minutes until a skewer poked in the middle comes out clean. Let it cool down for 20 minutes and then then unmold it on a wire rack till it's absolutely cold. You are ready to ice it now.

Nutella Buttercream

While the cake bakes make your buttercream, take soft butter, add the Nutella and mix it well with the help of a hand mixer. Now add the icing sugar and coco powder a little by little till you have a creamy buttercream add your milk slowly a teaspoon at a time till it's nice and creamy and you can't feel the gritty bits of the sugar. Add the salt and beat it well for at least 5 minutes till it's nice and creamy.

Assembling the Cake

Once the cakes have cooled down, take one and place it on your plate, fill an icing bag with the Nutella icing and make a dam around your cake, take about half a cup of the icing and spread it well in the center now chop the Ferrero Rocher chocolates and press them in the icing in the middle, drizzle with the melted Nutella and top it up with the other half of the cake. Ice the whole cake well and make a shell border all around it, drizzle with melted Nutella in the middle and place 4 pieces of Ferrero Rocher chocolate.
Your cake is ready… Enjoy!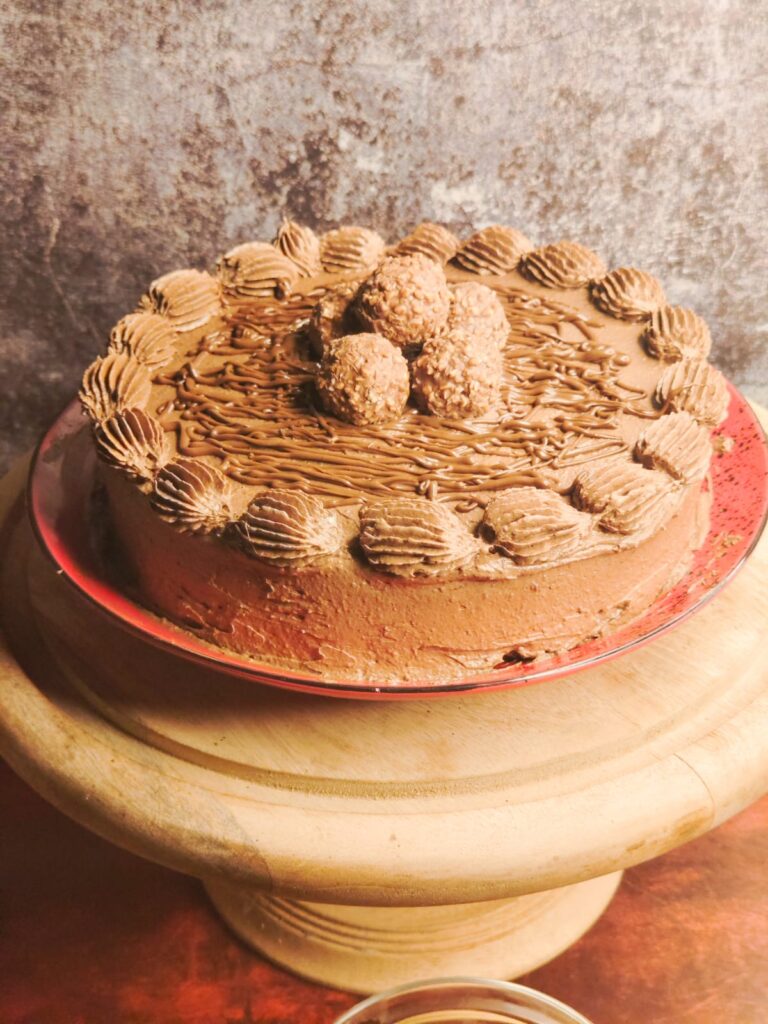 So now that you have the whole recipe give it a go and I promise you …you will love it and maybe then you will realize why its " you are my theme for a dream.. yes ! you are a fair and lovely dream…….a ferrero rocher cake …..yum yum yum ….. Please try it like, subscribe and comment….
Love N