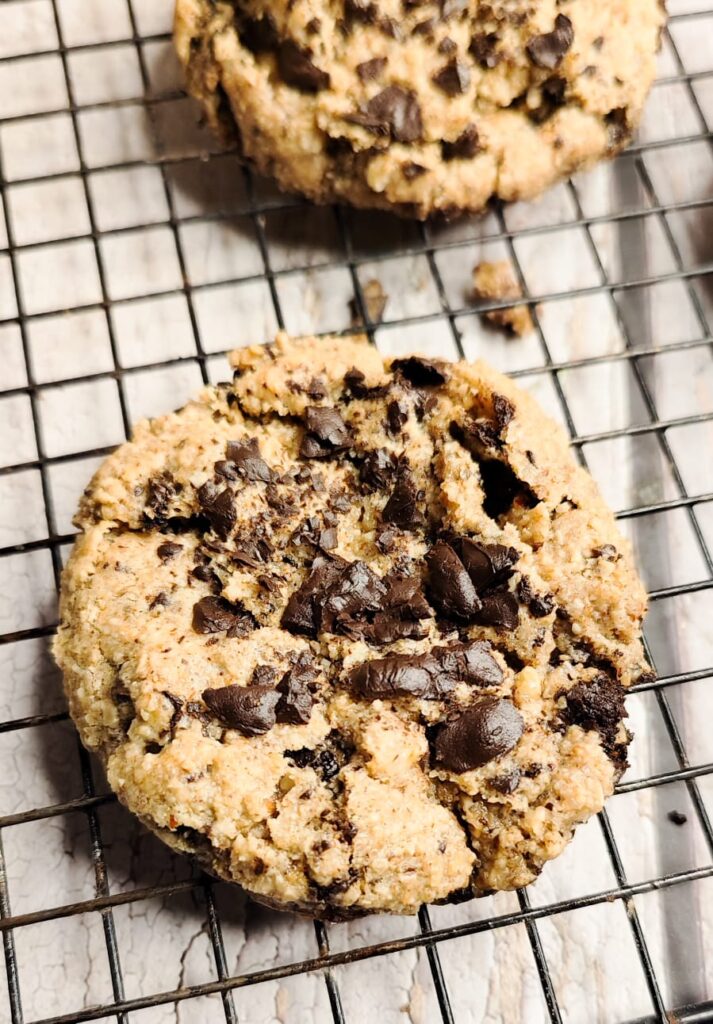 These simple cookies are packed with flavor you wouldn't even know that it is gluten free. Gluten Free easy cookies are super quick to make. Have the goodness of oats flour and almond flour. I have not used butter but coconut oil and this simple cookie recipe is a keeper. it is amazing in taste and texture. When you are hit with dark chocolate as soon as you bite into this simple cookie you know you have made the right choice. These cookies are crispy edges and gooey melty in the insides. Simple cookies, easy cookies and best the easiest gluten free cookies. Pantry staples put to good use.
One thing about these cookies to remember is that they spread when they bake. Now I don't mean teeny weeny spread but they spread a lot when they bake. You my friend will question my cookie making skills when you see these cookies spread. But that's where you need to trust me ….. all you need is to take a big cookie cutter and push it down on the cookies and swish it around till you have a nice round cookie. You do need to do this when they are out of the oven. Nobody minds a few extra scraps which will be gobbled down in a jiffy. Now you have nice round cookies, I do advice to do this when they are warm but don't lift them as they will fall apart. Just swirl the cookie cutters on the cookie around on the baking pan and voila ! perfect round cookies. Let me repeat again this an amazing simple cookie recipe.
Nothing makes me more happy to see you all try my recipes and if and when you do please don't forget to try these simple gluten free cookies and write me a comment or leave a like.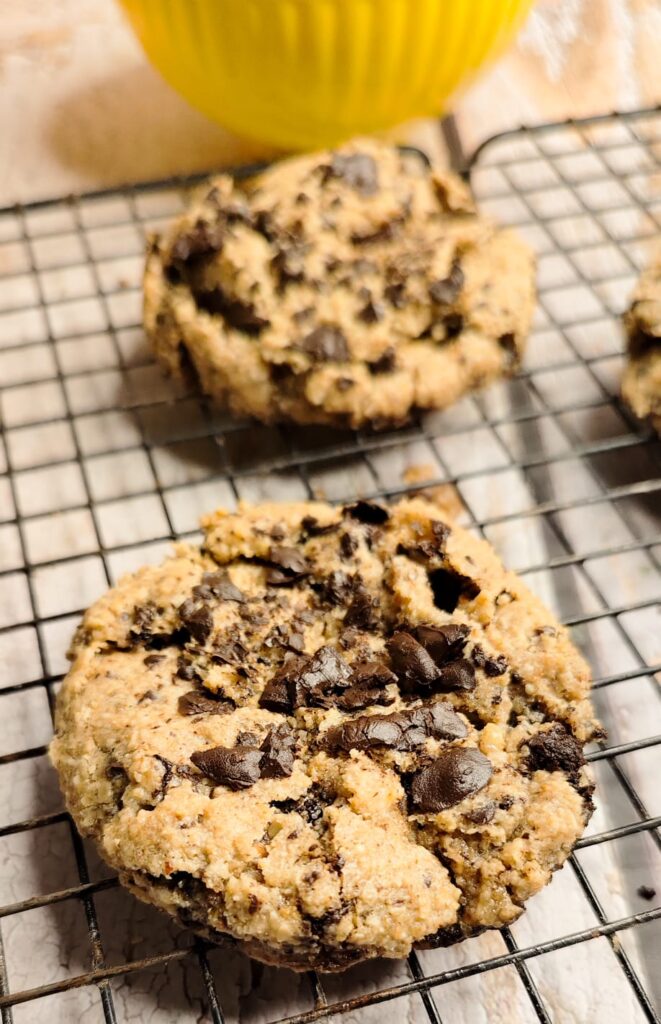 Instructions
Stir the flour , soda and salt together and keep aside. Now add the coconut oil add the sugars and whisk well till light and fluffy. Now add the fleg and vanilla essence mix well. Add the flour and dark chocolate give it a good mix. Makes 4 large cookies or 8 small ones and keep them in a tray lined with baking paper. Now put them in the freezer till you preheat your microwave. Preheat the microwave for 10 minutes at 180 degree C and then put the cookies and bake them 15 minutes. The cookies will spread A Lot let me warn you so when your baking is done take these cookies and all you have to do is take a large cookie cutter and place it on the cookie and push it side to side till you have a round cookie. Take a largish round cookie cutter for this and do this while they are warm, but warning don't try to lift them or move them too much or else, they will fall apart. Let them cool down completely. Enjoy!