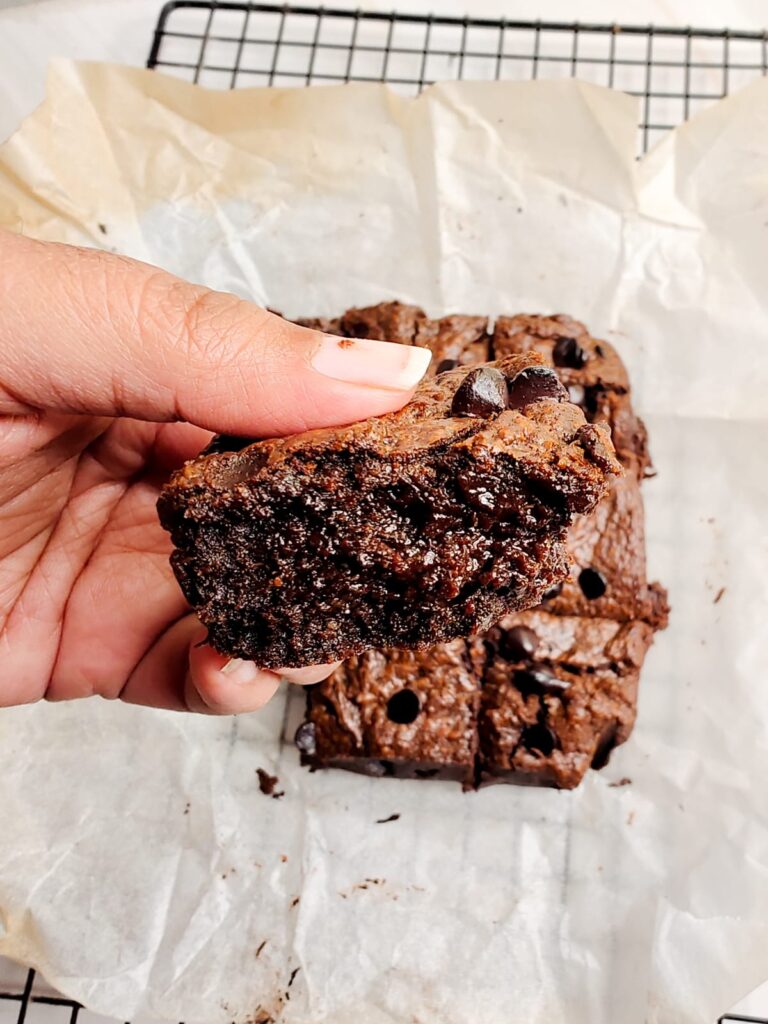 These wholewheat ragi brownies are delicious they have incredible flavour and they are the best wholewheat bronwies in the world. I know I know you won't believe me if I said these are the best wholewheat brownies in the world…. everyone claims that their brownies are the best, but you will believe me when I say that these are healthy brownies. Now all brownies aren't healthy but this one …oh boy this one is so good and so healthy.
How to make wholewheat ragi brownies ?
Now lets discuss the ingredients that go in making the best wholewheat ragi brownies .You might be like Nonsense how can brownies be healthy but if you read the whole recipe you will know what i am talking about.
GHEE the fat used is ghee now in India we make our own ghee, so it is without any impurities. Its rich in omega 3 fatty acids and also is a rich source of vitamins and minerals.
JAGGERY the sweetener used is jaggery it is a good source of antioxidant, the molasses left in jaggery contains phenolic acids that help reduce oxidative stress on the body.
FLOUR used is Ragi and Wholewheat Flour, Ragi is a good source of protein, wholewheat flour is a good source of carbohydrates. This brownie I told you is super healthy and super quick to make.
DARK CHOCOLATE used is 50 % if you want it more than 50 % you can use it and you can even use milk chocolate if you want your brownies sweeter.
COCO POWDER for that intense chocolate hit.
LIGHT BROWN SUGAR for that sweet caramelized crispy cookie.
These wholewheat brownies are the best …. the bestest thing that can happen to you, they are fudgy, gooey and so healthy and chocolaty. I used 50 % Dark Chocolate and unsweetened coco powder, and they are chocolate chocolate all the way:) I sang with joy as soon as I had my first bite. Please believe me this brownie recipe is a keeper. If you want to impress a health freak, make these and believe me they wouldn't stop at one. Please trust me these are super good, and you need to make them asap and you won't look at another brownie… I promise.
HOW TO MAKE WHOLE WHEAT RAGI BROWNIES AT HOME
Preheat an oven to 175 degree c and butter and line a 6 inch tin. Make sure the tin is well buttered so that your wholewheat brownies dont stick.
Melt the ghee and the chocolate together in a microwave till its nice and homogenous. Don't stir the chocolate and ghee mixture too much as the chocolate could realize its oil if mixed too much wait for it to cool down and then stir.
Mix the dry ingredients well the flour, coco and salt and keep it aside.
Beat the egg well in a separate bowl and add the sugars and give it a good mix. Till its nice and fluffy.
Slowly add the cooled chocolate and ghee mix in the egg mixture and give it a good stir. Now be gentle here.
Add the dry ingredients in this ghee and egg mixture and very very gently mix it till there are no flour pockets left. Dont over mix the mixture once its well mixed dont keep mixing it or else the brownie will be too tough. Be gentle again.
Bake at 170 degree C for 20 minutes till its dry on top and the brownie is slightly wobbly in the middle.
Let it cool down completely and cut into even squares
Enjoy !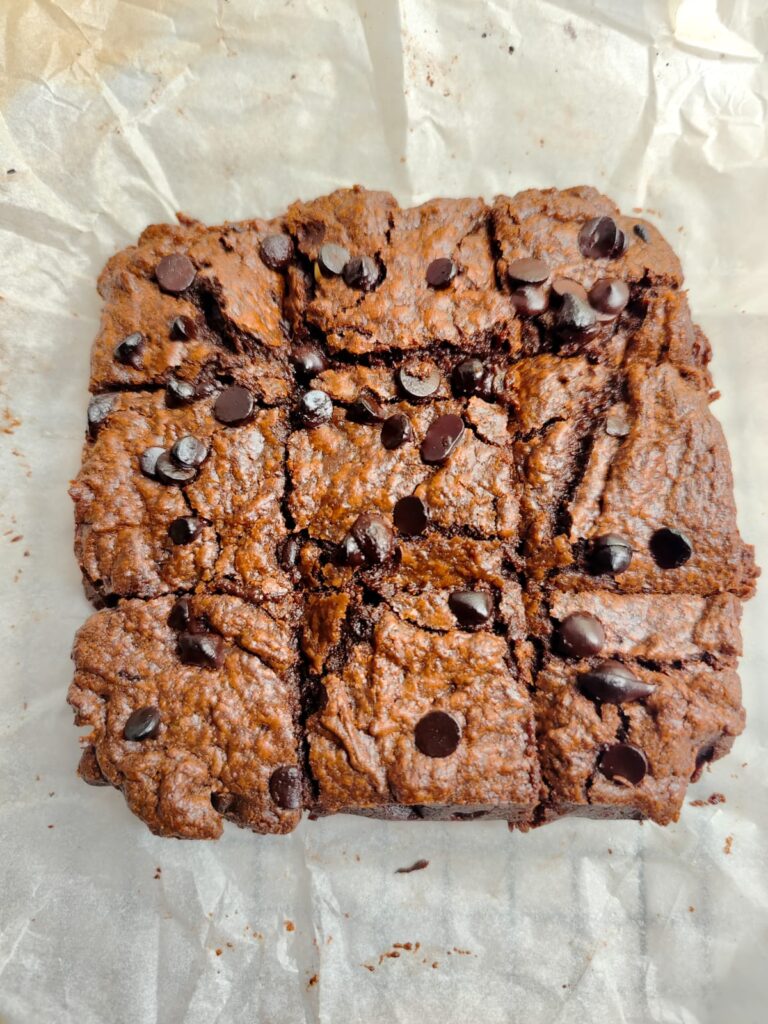 Instructions
Preheat oven to 175 C line and butter a 6′ square pan.
Melt the chocolate and the ghee, in the microwave and set it aside.
Now, take another bowl and mix the flour, salt and coco powder. Keep aside.
Now add a beaten egg to a bowl add the vanilla, stir in both the sugars and beat well.
Slowly add the chocolate and ghee and give it a good stir. Add the dry ingredients to the wet. Mix it only till the time all the flour pockets are gone and dont over mix it as it might make your brownies stiff.
Now pour the batter in the prepared pan and bake for 20 minutes untill the top of the brownie is dry but the center is still gooeye.
Cool it down completly and slice it into pieces. Enjoy !