The ultimate eggless fudgy, gooey peanut butter brownies with crispy edges and crackly top. This is a quick easy brownie recipe made with pantry staples. Follow the recipe to make the best eggless peanut butter brownies in the world.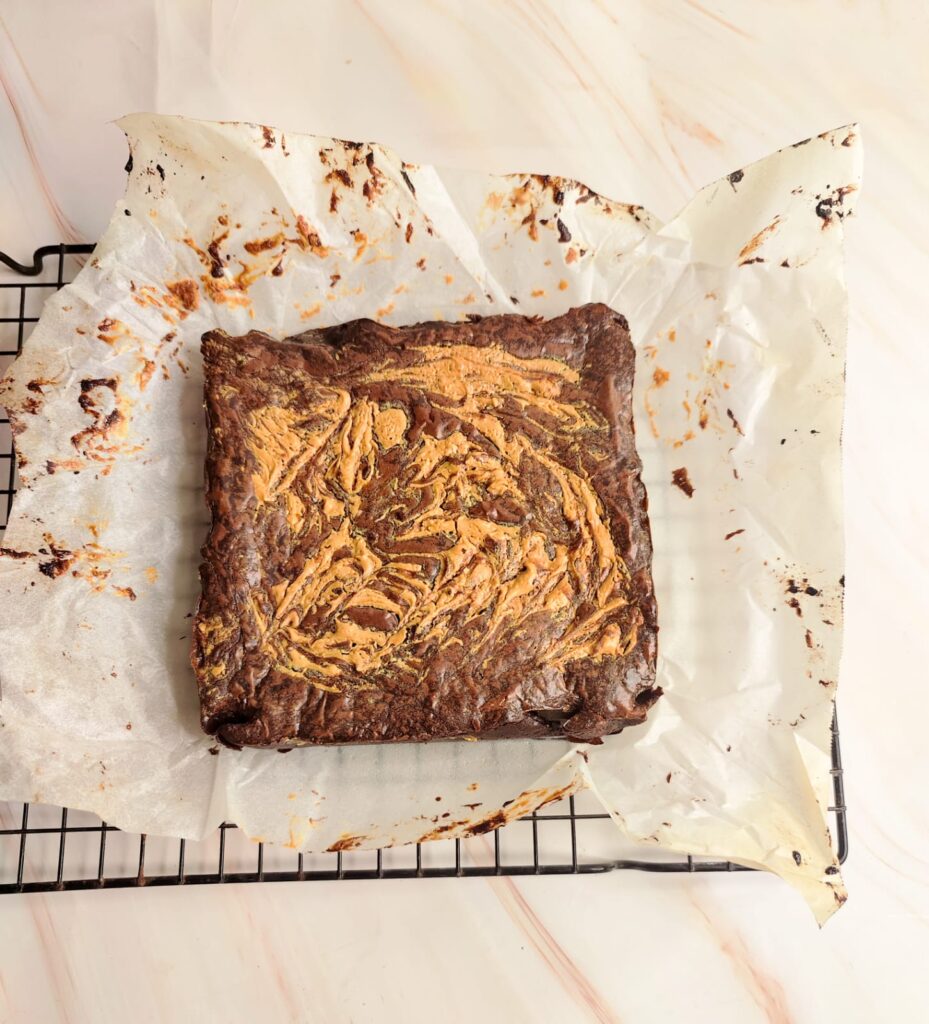 These are the best eggless peanut butter brownies in the world. If you love chocolate and peanut butter these brownies are for you. Peanut butter gooey and tempting with some dark chocolate what's not to like. I promise you these eggless peanut butter brownies wont even last a day, they will be gobbled in minutes. The combination of peanut butter and chocolate is such that nobody can resist it.
Why is my eggless brownie the best brownie in the world?
Firstly, my brownie is a fudgy brownie with a crackly top and crisp edges. Its gooey in the center and firm on top.
Its eggless and the best part you wouldn't even know that this brownie recipe has no eggs. It just amazing what this brownie tastes like.
These peanut butter brownies are quick and easy made with pantry staples. Nothing fancy or over the top needed to make these brownies.
The best part about these brownies is that you don't need to freeze a slab of peanut butter in the freezer to make the filling, you also don't need to add icing sugar or cream cheese for the filling. I have made the method simple all you need is room temperature peanut butter that's it.
These are dense chocolaty, and that peanut butter is just amps up the flavor.
You don't need a mixer or any fancy equipment to make these brownies.
The Ingredients used in the brownies
Dark Chocolate : I recommend using high quality chocolate chips I used Callebaut chocolate chips 54.5%.
Butter : a good quality butter works I used Amul. I used salted butter in my recipe since I like salt in my brownies, you can use an unsalted one and then add a pinch of salt however if you use salted butter skip the pinch of salt ( I didn't skip the pinch of salt as I like my brownies salty)
Condensed Milk : don't skip this ingredient since this is what makes the brownies fudgy and delicious.
Coco Powder : I use unsweetened natural cocoa powder, which is more acidic and also reacts with baking powder, allowing your baked goods to rise.
Light Brown Sugar : Don't skip this ingredient because this is what gives the brownies that light caramelly , gooey flavor.
Flour : I used was all purpose flour and I wont recommend using cake flour, wholewheat flour or even self raising flour.
Peanut Butter : i used was a creamy peanut butter not the crunchy ones.
How do you make eggless peanut butter brownies?
The method I have used to make these peanut butter brownies is slightly different I don't freeze the filling that is the slab of peanut butter nor do I add cream cheese or icing sugar to the peanut butter. I simply spread the peanut butter over the brownie batter and then drop more brownie batter on the top and swirl it around a bit with a little more peanut butter. The result is a gooey melted pool of brownie which is delicious. Picture given below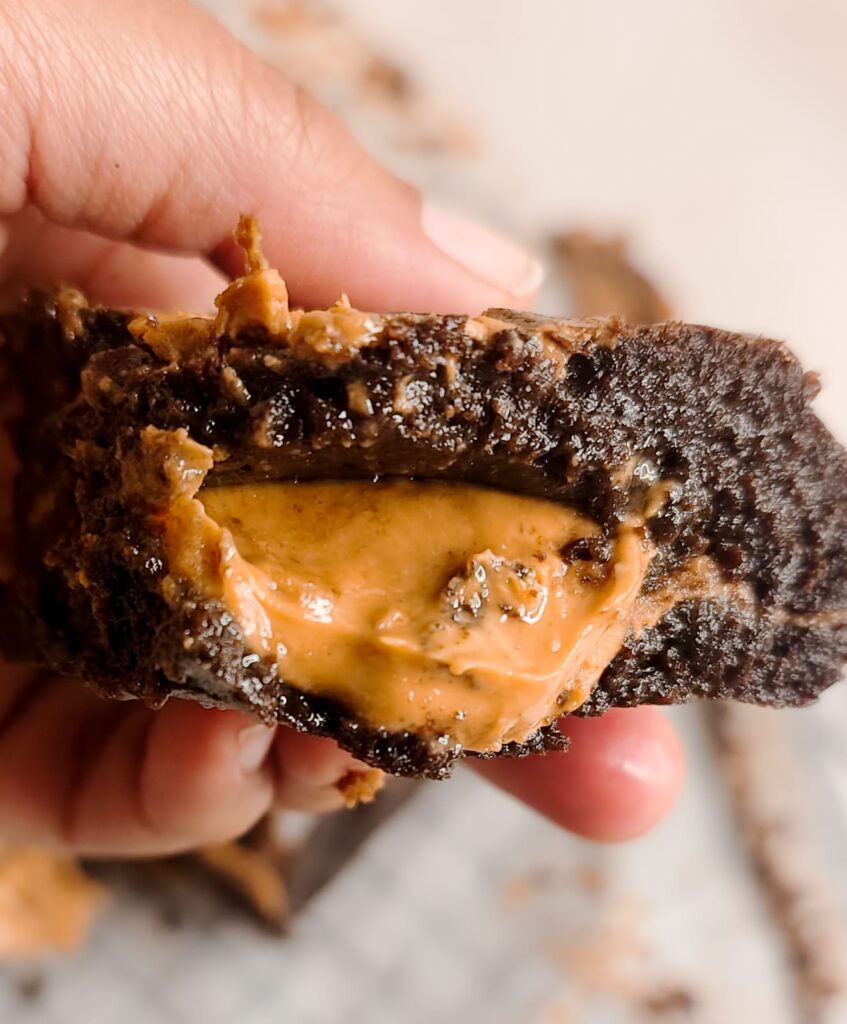 Instructions
Preheat the oven to 175 C and butter and line a 7 ' square pan with baking paper. Melt the chocolate and butter on a baine Marie and once melted add the condensed milk , sugar and vanilla essence and give it a good whisk. Take the flour, salt and coco powder and mix it well and add to the wet ingredients till you have a smooth batter. Now take a 7 " square pan and spread half the batter in it and take the peanut butter and spread on top of the brownie batter with a silicon spatula till you have an even layer now drop all the left over brownie batter on top of the peanut butter making sure we spread it on the sides. Take a few tablespoons of peanut butter and swirl it on the brownie batter(optional) Bake at 175 c for 30 minutes. Let it rest for 20 minutes in the pan now pull it and keep it on a wire rack and slice when completely cool. Enjoy !