Peanut butter chip jumbo cookies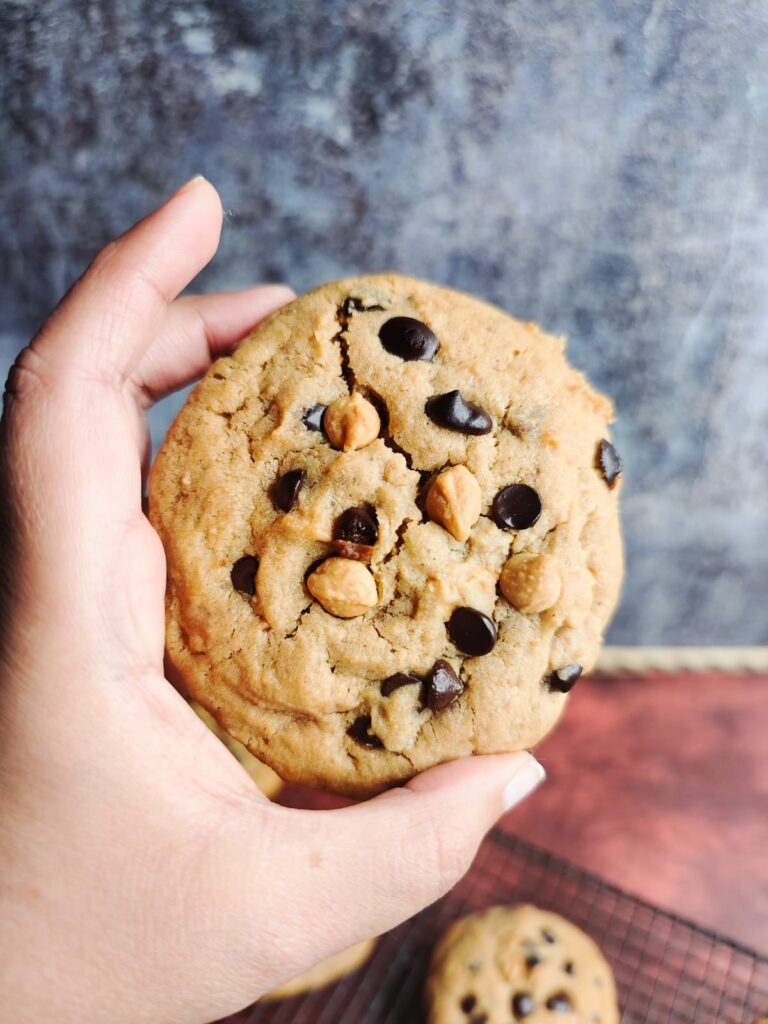 These peanut butter chip jumbo cookies are a great snack any time of the day they are big fudgy, chewy goodness of wonderful stuff. They are filled with peanut butter chips and chocolate chips that melt in your mouth, these peanut butter jumbo cookies are addictively good. The best part is the peanut butter If there was a butter, I could eat everyday with my toast it would be PeanutButter…. gallons and gallons of Peanut Butter …. I could probably swim in it lol and gulp down gallons and gallons of that amazing butter. Alas! life has different plans, and those plans don't involve gallons and gallons of peanut butter . These peanut butter chip jumbo cookies have PeanutButter goodness and dark chocolate chips too so it's a great combination. I had some mini reeses cups with me so i dumped them in too. The result was this amazing cookie and it all swims in your mouth like a witch's portion … so magical so delicious so yum that you are under its spell instantly.
How to make peanut butter chip jumbo cookies?
This is an easy recipe and here are list of ingredients:
All Purpose Flour this is what brings everything together its just all-purpose flour and not self-raising or cake flour.
Baking Soda this is what makes it Chewey.
Butter is what gives it that amazing flavor and use soft butter.
Dark Brown Sugar is what gives it the caramelized taste and that ooye gooeye sticky sweetness.
Caster Sugar to give the cookie structure and sweetness.
Peanut butter chunky/smooth whatever your heart desires
Egg a large one
Dark Chocolate Chips I used 70% dark chocolate chips and they were divine.
Peanut Butter Chips for that amazing peanut butter flavor and gooey goodness.
Reeses Mini Cups for that extra peanut butter punch
Vanilla i used an essence if you use a vanilla extract/vanilla bean paste you might need less
How to make peanut butter chips jumbo cookies?
Step 1 Mix the dry ingredients.
Step 2 Whisk the butter and make it nice and fluffy and then add the sugars beat them well.
Step 3 add the egg beat well.
Step 4 add the peanut butter and the vanilla essence.
Step 5 add the flour a little at a time and once well mixed add the chocolate chips, the peanut butter chips and the reeses mini cups. Just cut the reeses cups into small bits. chill the dough for a whole night or at least for 2 hours.
Step6 6 Now make 9 balls and bake them for 20 minutes at 180 degree C or till the edges brown.
Step 7 Enjoy !
IMPORTANT TIPS TO MAKE THE PERFECT COOKIES
Always try and mix the dry ingredients well. Be careful of lumps in the flour or soda and break them as soon as you see them.
Beat the butter till its nice and fluffy this is where you incorporate air in your batter and the cookies turn out fluffy and not tough.
Always mix the egg well.
Chill the dough make your cookie balls and then chill them for at least two hours or overnight. Don't skip this step.
Don't forget tapping the baking tray for the cracks.
You will love these peanut butter chips jumbo cookies and they are the BEST peanut butter chip cookies in the world. Try them and you will never want another peanut butter chip cookie…these are super super super yum.
Before I leave I hope I have convinced you to try these peanut butter chips jumbo cookies and if and when you try them please leave a comment or just say hi.
Love N
Instructions
Preheat oven to 175 C and butter and line a baking tray. Take the flour and add the salt and soda stir it well and keep aside.
Take another bowl and beat the butter with both the sugars well add the egg give it a good mix.
Now add the peanut butter and vanilla essence, give it a good mix.
Add the flour a little at a time and once the dough comes together add the chocolate chips, peanut butter chips and the reeses mini cups. Just squish the reeses mini cups so that they are easily incorporated in the dough.

Chill the dough for 2 hours or for a whole night. Make 9 jumbo size cookies and then place them in the fridge
Take out the 9 jumbo size cookie balls and stick a few chocolate and peanut butter chips on them. Bake at a preheated oven of 180 degree c for 20 minutes. Once you take them out of the oven tap the baking tray twice on the table.. thats what gives your cookies those cracks. Cool for 15 minutes on the tray and then shift them to a wire rack. Enjoy!