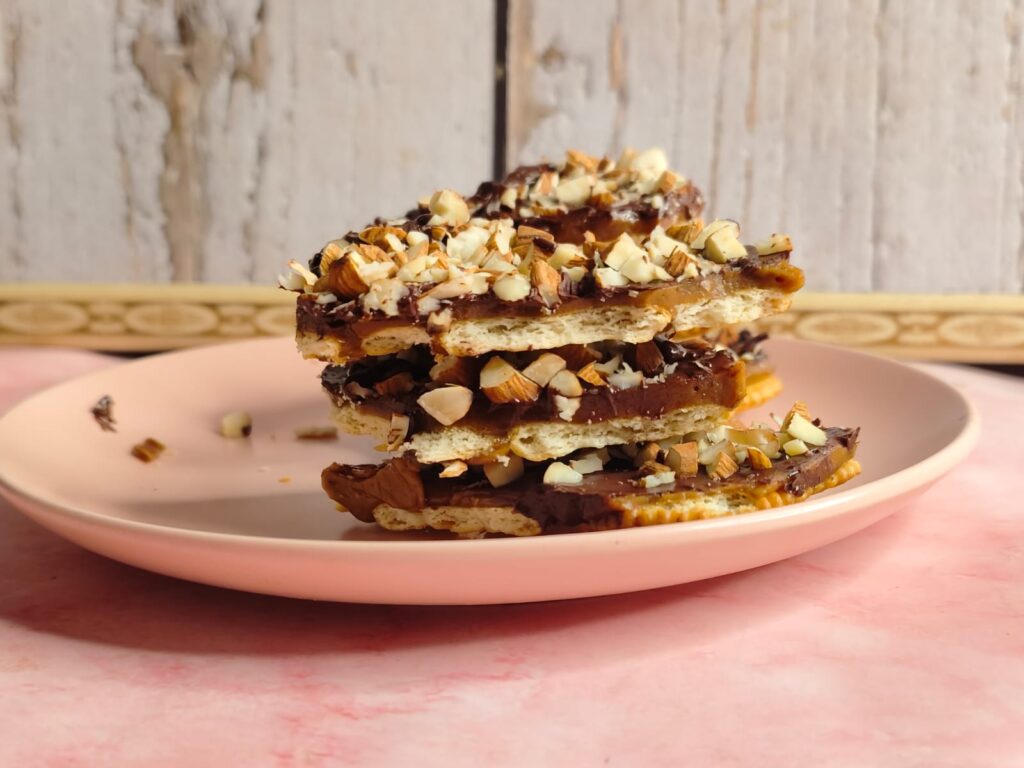 We all know monaco biscuits they are salty, crispy and great with a cup of chai. They are very popular in India. They are salty, crisp biscuits but my recipe has a twist, how about a layer of toffee, chocolate and almonds. Yum! Isn't it? Originally the recipe is made with saltine crackers but since they aren't available in my city, I used Monaco Biscuits and believe me they turned out delicious. The salty flavor of the biscuits along with the toffee and chocolate was truly wonderful.
You start by placing the biscuits in a square tin which has been buttered very well and please line it with foil and butter the foil too with the ends overhanging.
For this recipe you need to make a toffee and then spread it over the biscuits. The ideal color of the toffee is a deep golden brown, not black or too brown but a deep golden brown. When the butter and sugar is cooking together over medium heat it is adviasable to be careful as sugar is very hot and can cause seriosu burns. But once you have made the toffee I would advise you to spread it quickly over the cookies as they harden fast if they get too cool. Then while the toffee is hot spread the chocolate chips on it, the chocolate chips will melt and then you can spread it over the toffee. My advice is to use really good dark chocolate chips as they will melt faster and cut the sweet too. Once done with the chocolate add the almond slivered or cut into small peices and sprinkle them on top of the melted chocolate. Let it set for atleast half an hour. Once cold break it into bars and you can enjoy.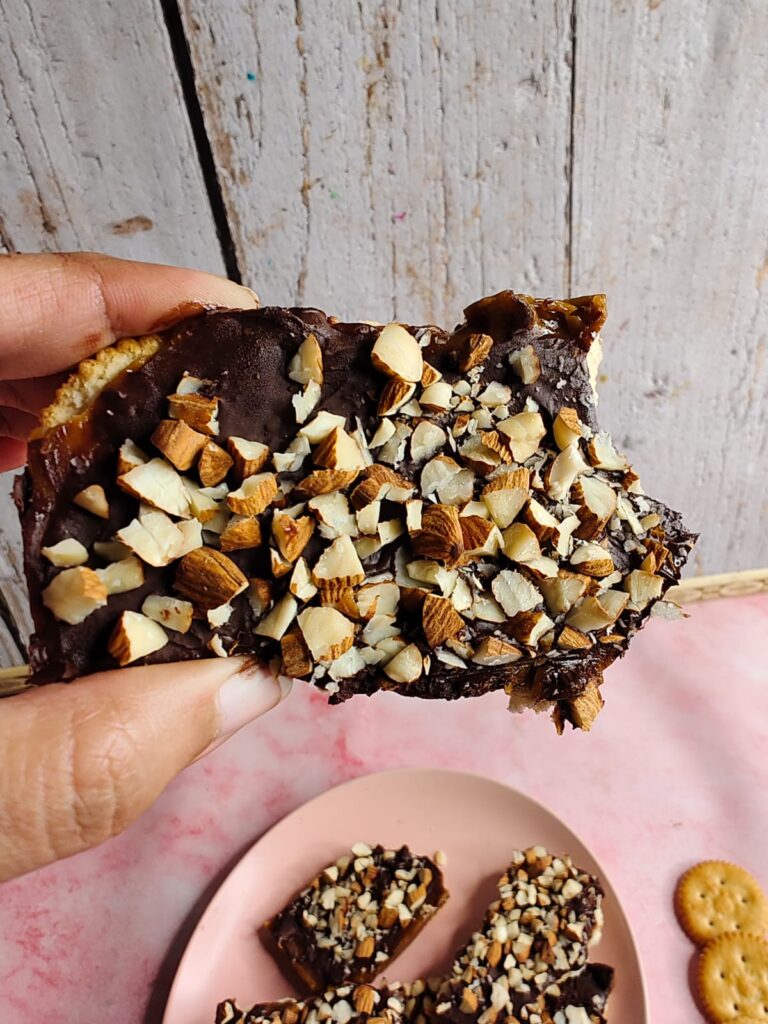 Instructions
First butter a square pan and cover it with foil paper butter that too. Place your monaco biscuits in a layer in the pan there might be little space between them I didn't bother about it too much as the toffee has to ultimately top it. 
Now make the toffee place the butter and sugar in a heavy bottom pan and cook the sugar and butter till the sugar is caramelized or a golden brown not black, not too brown but a beautiful golden brown. Color like a toffee
Once the sugar is cooked to a nice golden brown pour it over the biscuit base and spread it well and don't forget the corners. Once done drop chocolate chips on it while it's hot and the heat of the toffee will melt the chocolate, spread it well all over the toffee and sprinkle the slivered almonds. Stash it in the fridge and let it cool down let's say half an hour. Break it into pieces and enjoy!