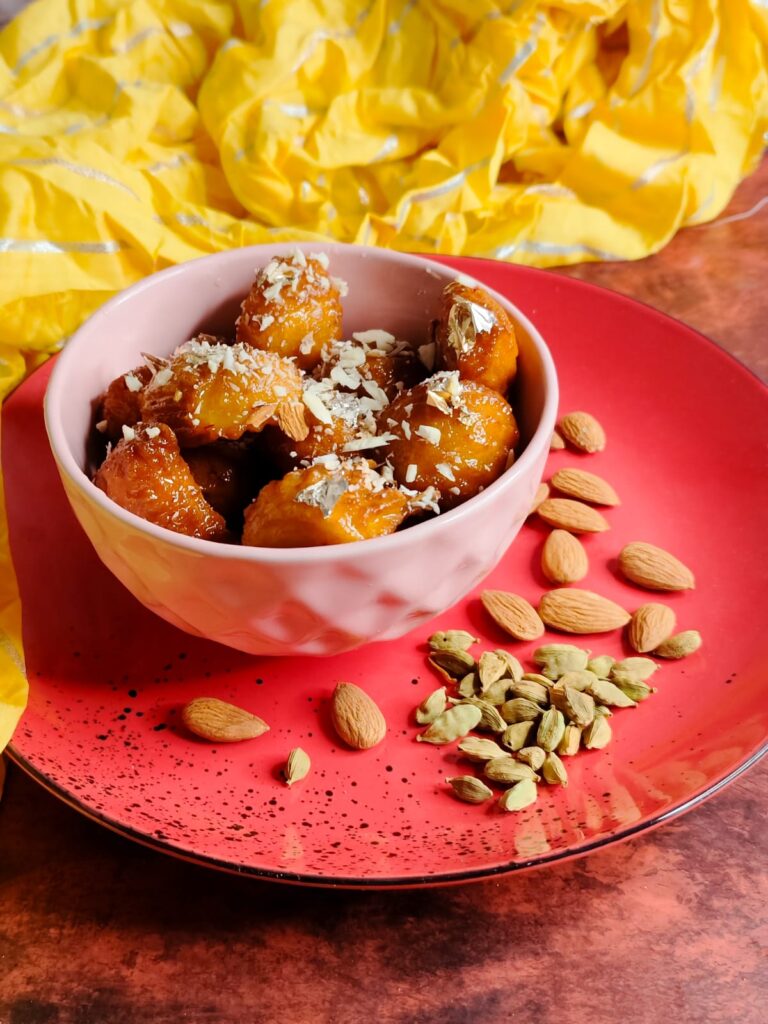 For this Diwali I wanted to make desserts that use sugar syrup and I landed upon Bamieh. Now, I have very little knowledge of Persian food, but I have roots in Iran and Armenia and my maternal uncle who used to run an Armenian restaurant in Oregan decided to help me. This recipe for Bamieh is tried and tested by him. He is an incredible cook an excellent baker and is a store house of knowledge when it comes to Persian or Armenian food. I love Persian food and I absolutely loved the Bamieh. So, I took permission from my uncle to share his recipe. But first what is Bamieh ?
What Is Bamieh?
Bamieh is the Farsi word for both okra and the Persian donut made in the shape of okra. Now these incredible brown fritters are delicious and sweet and don't contain any okra or lady finger. It's the shape of the bamieh which is like an okra that gives it this name. Once these fritters are fried, they are dipped in a sugar syrup which is infused with the floral flavors of rosewater and saffron. In Iran Bamieh is traditionally served on Nawroz and is a delicacy that's enjoyed by all. This sweet is very common in the month of Ramadan in Iran and is served for Iftar (the evening meal).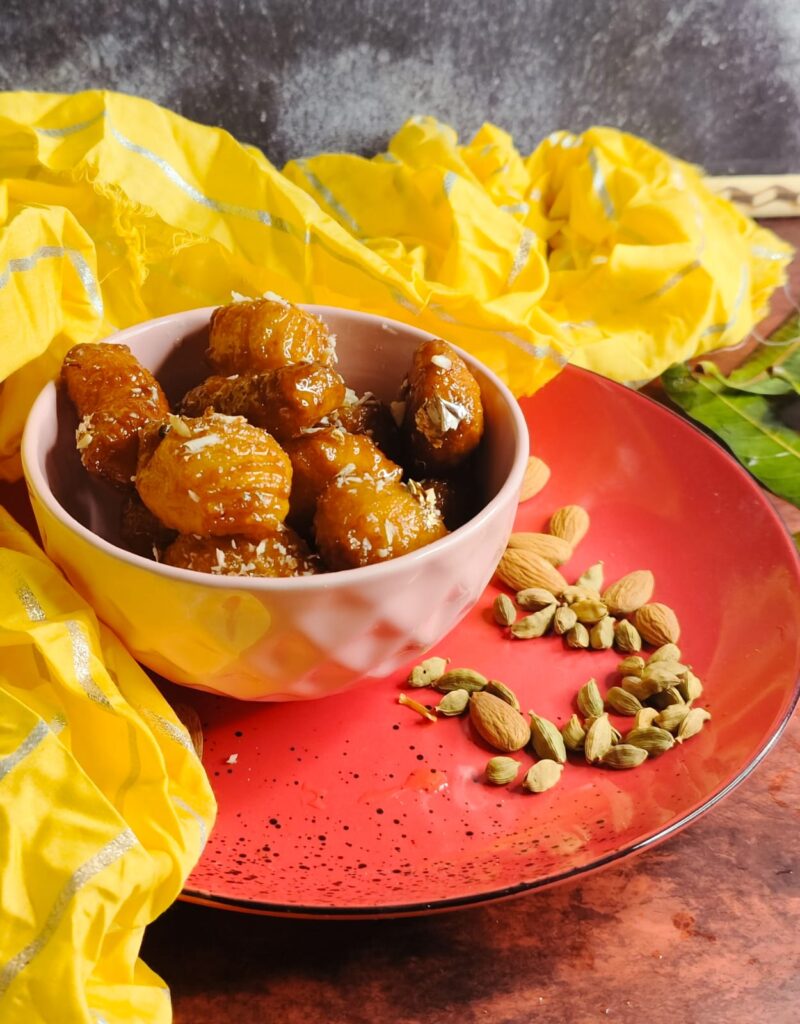 Diffrence between Bamieh and Zoolbia ?
Bamieh and Zoolbia are both Persian sweets that are fried and then soaked in a sugar syrup. Zoolbia has a thin batter that is filled in a squeeze bottle and then fried in a round shape whereas Bamieh batter is filled in an icing bag with an open star tip and the batter is fried till its golden brown. A Bamieh has grooves on its surface because it's squeezed out of a star shape tip.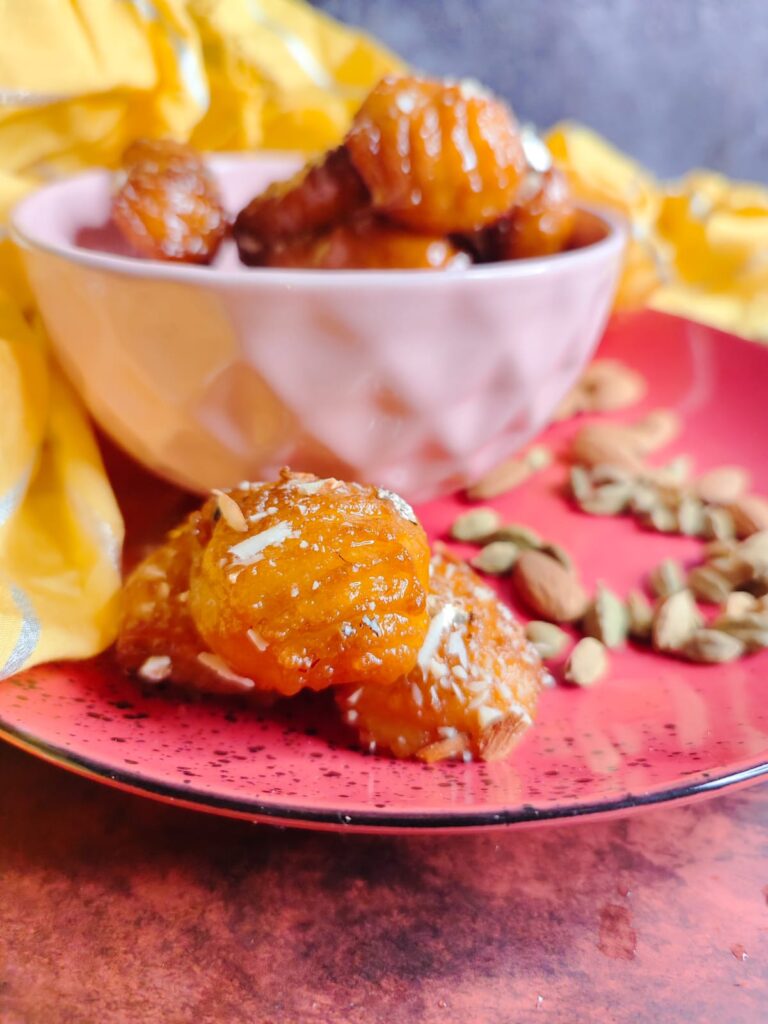 Ingredients For The Batter
Ingredient for the sugar syrup
Instructions
Make the syrup first add all the ingredients together bring it to a boil till all the sugar granules have melted. Its should be a thick syrup. Keep it aside and keep it warm.
Now the batter for the Bamieh take the water and the butter bring it to a boil. Add saffron till its mixed well and the butter has melted. Remove from the heat and let it rest for 1 minute.
Now add all the flour into the butter and the water mix well. The dough should be firm but soft. If at this point you feel you batter is still not thick enough add the flour a teaspoon at a time till you reach the perfect consistency. Which should be soft enough to squeeze through a icing tip but firm enough to hold its shape. Allow to cool.
Add the eggs mix well so that no lumps remain. Chill it in the fridge this is an important step because if they arent chilled they will break open when they are fried.
Transfer to an icing bag, which you have oiled from inside so that the batter slips out easily when you squeeze it. Use an open star tip squeeze out about 2″ peices into hot oil. Cook on medium heat till dark brown with hard outer shell. Put in the syrup for for 3- 4 minutes.
Remove serve hot or cold.