Originating from the heart of Indian sweets is this delectable burfi made with milk powder and a few kitchen staples. This burfi is creamy, rich and a harmonious blend of milk powder's creamy richness and the sweet nostalgia of burfi. Its modern meets the traditional but in the form of this amazing burfi. It's perfect for Raksha Bandhan as it's an easy recipe and amazing in taste. Infact it's a perfect companion for festivals, gatherings, or simply indulgent moments. If you need to whip up something amazing for Raksha Bandhan this recipe is for you, this burfi has a smooth texture and a subtle sweetness, enhanced by flavors of saffron and almond. Its your perfect Raksha Bandhan surprise, make it and enjoy it.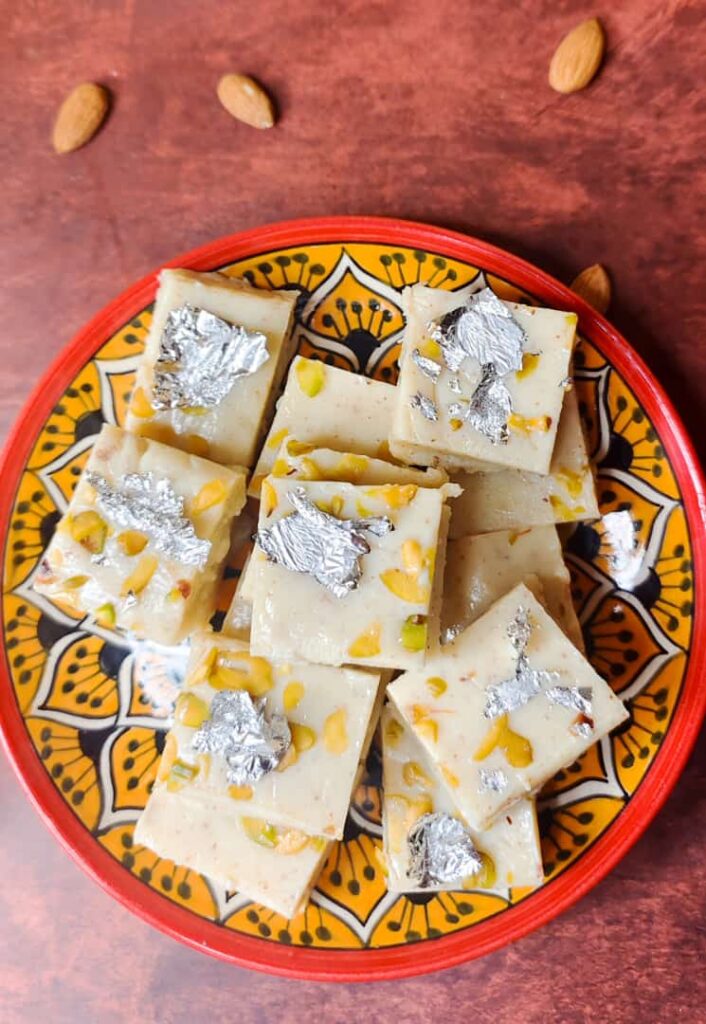 Milk Powder Burfi is an Indian sweet that melts in your mouth with every bite. Its soft, a little sticky, silky smooth Indian sweet which is something like a fudge but with Indian flavors. Milk Powder Burfi as you can make out from the name is made from milk powder, ghee, milk, malai (full fat cream), saffron and almond. It's an easy recipe and does not conform to the traditional way of making burfi, which is a long tedious process. Here the burfi is ready in about 25 to 30 minutes and just requires a few kitchen staple ingredients. Milk Powder Burfi is a great sweet that you can whip up for Raksha Bandhan and surprise your brother.
What is Burfi?
The history of Indian sweet burfi dates back many centuries and the term burfi or the name burfi originates from Persian and Urdu where the name Burfi means snow and ice referring to the visual characteristics of this Indian sweet which is white in color almost as white as snow or ice. However, barfi is an original Indian dessert which resembles a fudge, and This name possibly reflects the dessert's soft and melt-in-the-mouth texture. Collectively Indian Sweets are called mithai and burfi falls into this category. Over time, burfi has become an integral part of Indian cuisine, with various regional adaptations and flavor combinations.
Kaju Burfi (Cashew Burfi): Made primarily with cashew nuts, sugar, and ghee, Kaju burfi is known for its rich and nutty flavor. It's often garnished with silver leaf or chopped nuts.
Badam Burfi (Almond Burfi): Similar to Kaju burfi, Badam burfi is made using almonds. It has a slightly coarser texture due to the almonds and is a delicious blend of flavors.
Coconut Burfi: This burfi is made from grated coconut, sugar, and milk, giving it a moist and chewy texture with a strong coconut flavor.
Khoya Burfi: Khoya or mawa (reduced milk solids) is the main ingredient here. It's cooked with sugar and ghee to create a rich, dense, and intensely flavored burfi.
Besan Burfi: Also known as chickpea flour burfi, it's made from roasted chickpea flour (besan), sugar, and ghee. It has a slightly crumbly texture and a nutty taste.
Fruit Burfi: These burfis are often made using fruit purees, like mango, strawberry, or even carrot. The fruit flavors add a unique twist to the traditional recipe.
Chocolate Burfi: A modern variation, chocolate burfi incorporates cocoa powder or melted chocolate into the mixture to create a delectable chocolatey treat.
Rose Burfi: Infused with rose essence or rose water, this burfi has a distinct floral fragrance and a delicate pink color.
Paan Burfi: This burfi is made with paan essence and colored green to resemble the betel leaf.
What is a Milk Powder Burfi?
Milk Powder Burfi is a delightful Indian sweet that is very popular during festival seasons as its easy and quick to make. It is a type of fudge-like confection made primarily from milk powder, sugar, and ghee (clarified butter). It's a versatile Indian sweet as you can make various variations of it with different nuts, chocolates, extracts and flavors. it's an easy, quick dessert that you can whip up if you have guest coming over and have no time to prepare a sweet dish or for a time when your kids crave something sweet, and you have nothing to give them. This fudge like Indian confection is perfect for your sweet cravings. It's easy to make and all you need is stuff that is already lying around your kitchen cabinet.
This recipe is a simple Indian sweet and you don't have to stand for hours on the kitchen hob stirring it as it requires very little effort and time. Milk Powder Burfi is perfect for the lazy cook, the cook who doesn't want to spend hours stirring a spoon, this recipe is perfect for you.
One can however bring a lot of variations in this recipe and consider my recipe as a base for experimentation in the kitchen. You can switch the almond flour for cashew or add coco powder instead of cardamom and saffron. You can just add rose water and pink color if you want rose favored burfi or add paan flavored essence and make a pan variation of this sweet. You could simply just stick to saffron and cardamom if you don't feel like experimenting but consider this recipe as a base for kitchen experiments.
Milk Powder Burfi Ingredients
Milk Powder: Milk Powder used in this recipe is full fat since this is what gives the barfi a rich taste and smooth texture. You can use dairy whitener too but make sure its full fat and sweetened.
Ghee (Clarified Butter): almost all Indian mithais have ghee. As ghee adds a nice aroma and rich texture to Indian sweets. It is the same with this milk powder burfi. In India we make ghee at home and the ghee I have used in my recipe is my homemade ghee. If you don't have ghee, then you can also use the same amount of unsalted butter. But I would recommend you use ghee as it lends the burfi a nice flavor.
Malai (full fat cream): In India we get full fat milk which we boil and the when it cools down the top of the milk is a layer of full fat cream which we have used in this recipe. If you dont have malai just use full fat cream.
Milk: Full Cream and even skimmed milk work over here but I have used full cream as thats what gives the burfi the creamy texture.
Sugar: even though I have used sweetened milk powder or dairy whitener you need sugar to make this sweeter. You can adjust the amount of sugar according to your taste. I used caster sugar.
Ground Almonds: I took about 40 gms of almonds and ground them in a grinder till they were powdery, don't overdo the grinding as the almond meal might start becoming oily as they excrete their natural oils.
Cardamom: this is what makes the burfi nice and flavorful, it brings the whole burfi together beautifully. However, this is an optional ingredient.
Saffron: A few strands of saffron gives this burfi an amazing flavor, I took the stands and mixed them with a little warm cream and used it in the burfi. This is an optional ingredient.
Pistachios: A few slivered pistachios for the garnish.
Silver Vark: Just for garnishing and making the burfi looking traditional.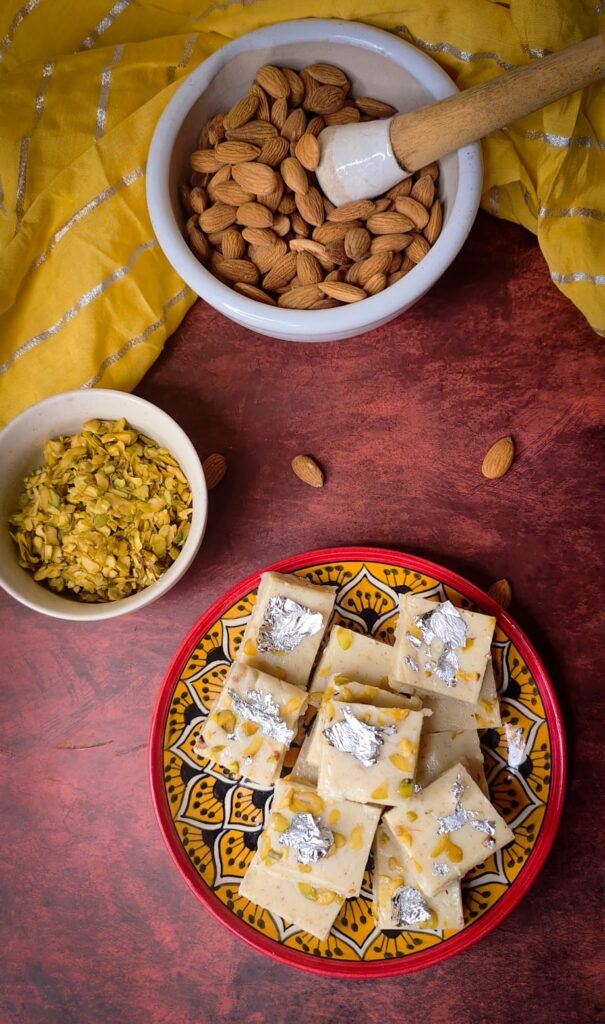 Instructions
Take a nonstick pan and heat ghee in it. Add the malai and milk bring it to a boil.
Keep stirring so that it doesn't burn from the bottom. Once the milk bubbles add the milk powder in it. But do so by adding milk powder 1 tablespoon at a time. Go slow don't dump all of the milk powder in it at once or you will have lumps.
Continue cooking on medium flame, add the sugar and the almonds. Mix well and continue stirring on medium flame for 20 minutes till the mixture forms into a ball or all of it comes together into a mass. Add the cardamom powder and the soaked saffron. Give it a good mix and switch off the flame.
Transfer to a greased thali or plate and pat it with a silicon spoon. Now garnish with nuts and place the silver vark over it.
Cool it down to room temperature before you place it in the fridge. Cut into squares. Its Good for 3 to 4 days if kept in the refrigerator.