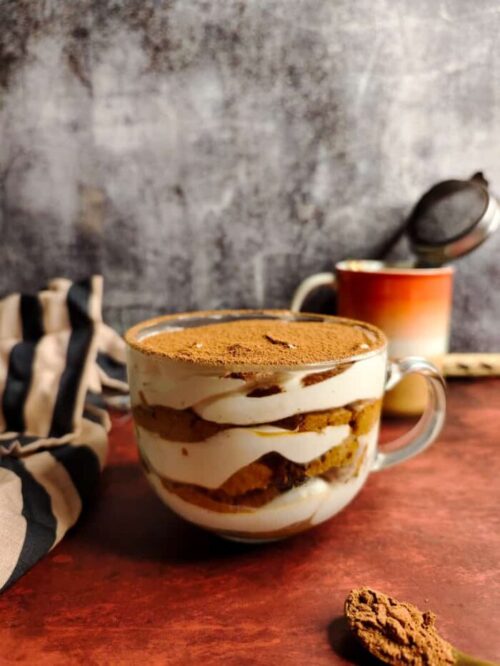 I don't claim that this recipe is an authentic Tiramisu but it's delicious. It's easy to put together and you can have a delicious dessert in under 15 minutes because if you are as impatient as me you would know how that works. You assemble the dessert and munch, crunch, swallow. Done. But Tiramisu needs time in the fridge for the flavor to mature. Minimum 1 hour and about 4 hours if you have ample time. But me being me have no patience so, by the time I assemble the tiramisu I am thinking of ways to chow it down without feeling guilty about not letting it mature. It's delicious eaten as soon as assembled but I would recommend you let it sit happily in the fridge for at least an hour so that you get blown away and I promise you, you will.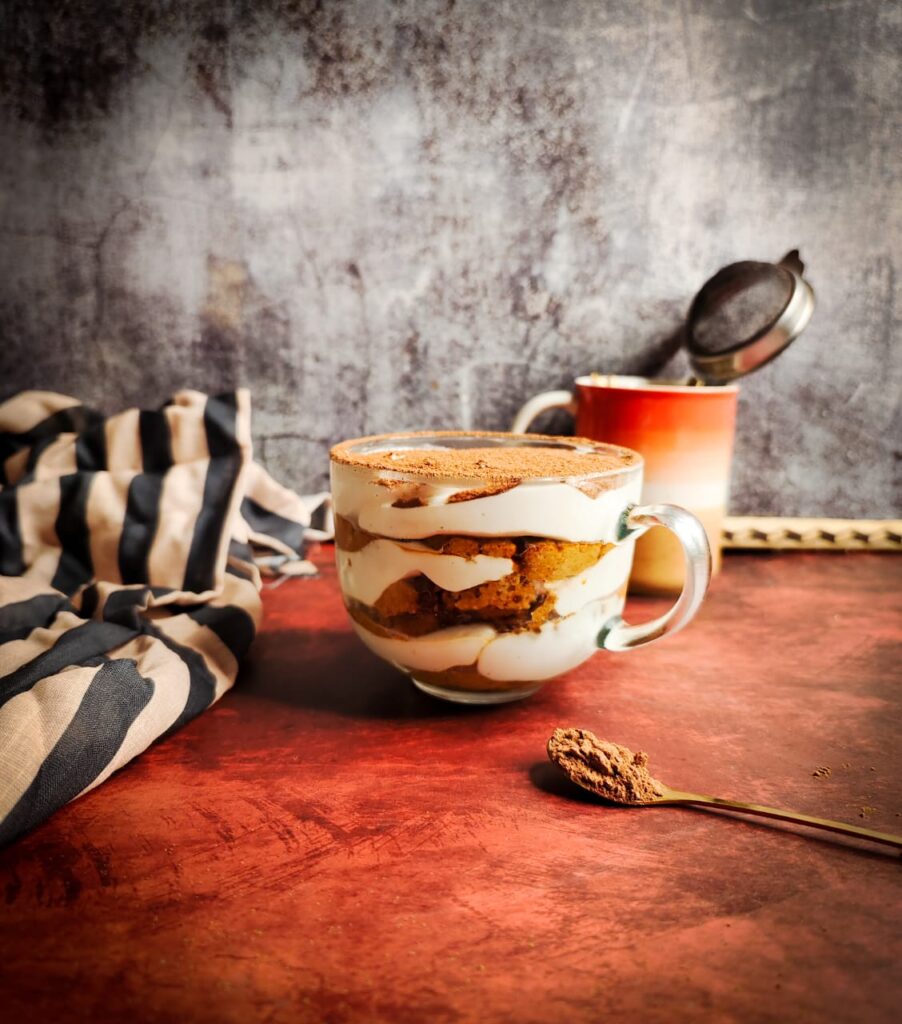 This recipe is easy peasy but gets full marks for taste and flavor. I love how a simple homemade mascarpone can lend the same flavor, texture to the recipe as a shop bought one. If you want me to post the recipe of my mascarpone cheese, please comment below. Anyway, back to the Tiramisu I love love how you can adjust the flavor of the coffee as per your needs, add an expresso shot if you would like more coffee flavor and dip the cookies in it. I would recommend chunky chocolate chip cookies, but you can use any cookies that you like digestives, Marie biscuits or even Oreos. You can reduce the sweetness of the recipe as per your liking. Please please try this recipe and let me know how it went. This is the easiest and the quickest dessert to make and takes 0 effort.
Instructions
Now whip up your cream add sugar if using and whip to soft peaks and then add the mascarpone and whip up really well. Take an icing bag and fill it up with the mascarpone cream and set it aside in the fridge.
Take hot water mix the coffee in it and dip your chocolate chip cookies in the coffee, let it sit in the coffee for a few seconds and place it in a large mug.
Now, snip open the icing bag filled with the mascarpone and cream swirl it around on top of the cookies, now keep building the layers like this once you reach the top cream layer, dust it with coco powder. Let it sit in the fridge for at least 1 hours.
Enjoy !