Now, what I bring to you today is an incredible tart that is easy to put together and refreshing in this summer heat. As the summer heat spreads across India everyone is looking for respite from this heat and that includes eat something cold and refreshing. This tart is lemony, cold and the strawberries make it even more delicious.
The best thing about this tart is that it is no bake and made from simple pantry staples. You don't have to worry about baking it all you need is these few ingredients, and your eggless lemon curd strawberry tart is ready.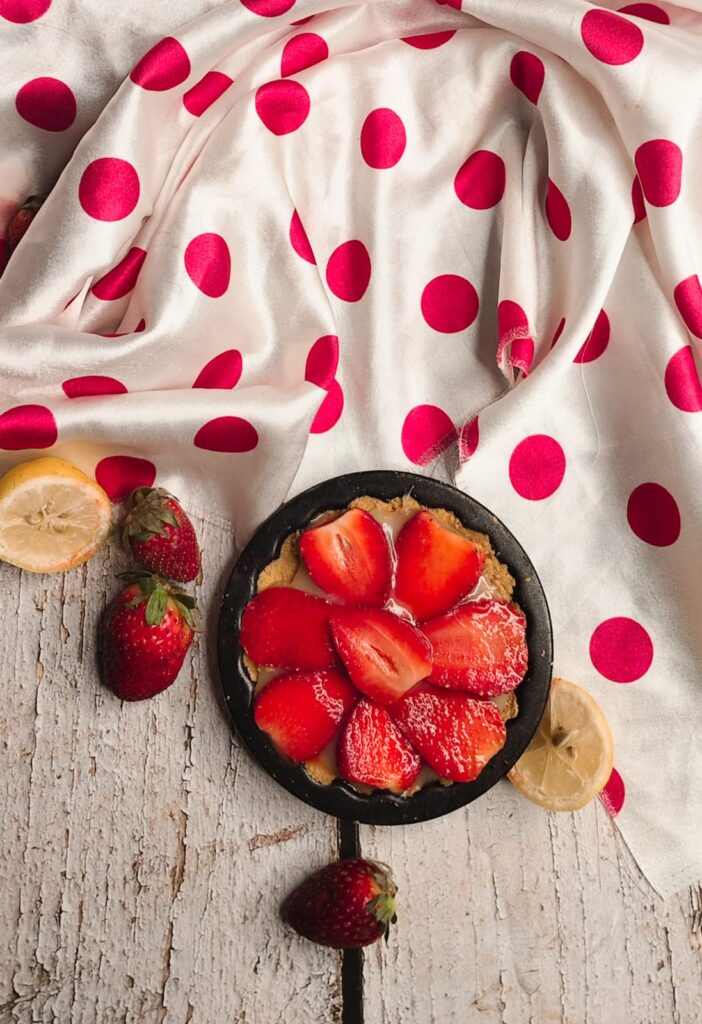 Since strawberries are in season this recipe is a keeper, its a simple no bake tart with lemon curd and strawberries. So, lets discuss the crust of the tart first all you need is digestive biscuits and butter. Since its a no bake recipe you dont need to bake this tart crust and all you need to do is crush the biscuits into fine rubble add the melted butter. Give it a good mix and then spread it in the tart tin. Keep it in the fridge to cool down and use as and when needed.
The tricky recipe you might think may not work is an eggless lemon curd, but my recipe works, its simple with a few ingredients and is refreshing something you need this summer. I love this lemon curd you don't need milk or cream just water .. yes ! sounds strange but its delicious and lemony and light and you don't need to worry about it curdling.
I love strawberries, they are delicious, summery and the flavor is amazing. The strawberries need to be just cut and placed on the tart and you need to cool it in the fridge and enjoy it.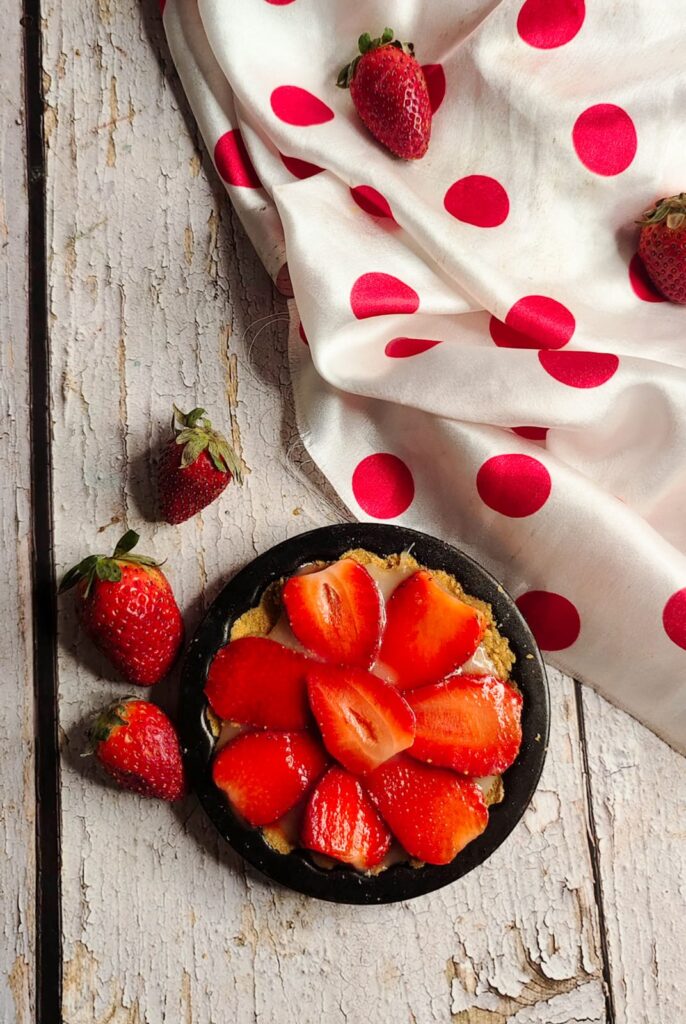 Why you must make this lemon curd strawberry tart?
It's perfect for the summer, light and lemony.
Its no bake, you dont have to slog in the kitchen to make these.
Made with a few pantry staples, simple to assemble.
The strawberry and the lemon make a perfect summer treat.
This eggless lemon curd Strawberry Tart, is a keeper, no bake simple and delicious. It would be a hit with your guests and best its eggless but i promise you wont be able to figure out the difference.
Ingredients For Eggless Lemon Curd Strawberry Tart
Instructions
Take cornflour and water in a saucepan and mix it till it's lump free. Add sugar and zest and cook till it boils and thickens add butter and lemon juice and mix well till it bubbles. Take it off the heat and pour into a cup and refrigerate to cool down.
Ingredients for Tart Base
Instructions
Now crush the biscuits till they are powdered and add the butter. Mix well and take 2 tart tins and spread this on the base of the tart tin making sure you spread this well in the corners . Put in the refgirator to firm up.
Ingredients for the Glaze
Instructions
Bring sugar and water to a boil till it becomes nice and thick . Let it cool down
Assembly of the Strawberry Lemon Curd Tart
Take the tart tin that you have prepared and spread the lemon curd on the top and then nicely arrange the chopped strawberries. Brush with the glaze and keep it in the fridge for about 1/2 hour and enjoy !